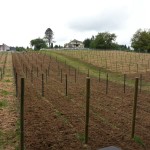 In Oregon wine country, Vineyard Development is a complex process based on site selection, unique conditions and our cool climate growing conditions. WVVS Oregon Vineyard Management programs offers complete site preparation resulting in trellis ready soils that will enable us to farm your new vineyard to its fullest potential resulting in high quality Oregon Wines.
In your Willamette Valley Vineyard we at WVVS will take numerous factors into consideration such as elevation, slope and aspect, airflow, soil type and previous use. As your Oregon vineyard management company we will create a comprehensive farming plan to develop your Oregon vineyard to its fullest potential. Which includes varietal choices,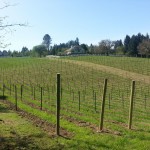 clone and rootstock selection, vineyard planting density, row orientation and planting block locations. We will prepare your Oregon vineyard soils to a trellis ready condition, whereby we will provide and install the highest quality trellis materials based on you sites unique attributes and your artesian appeal.
Installing and managing your estate vineyard in the Willamette Valley is not to be taken lightly. Our Organic farming plans produce world class Oregon wine grapes. WVVS believes your estate deserves the highest level of detail, we see ourselves as stewards of your land and surrounding farms. As your Oregon vineyard management company we insist on your Oregon vineyard not only yielding high quality fruit, but complimenting your estates overall appearance and value for generations to follow.